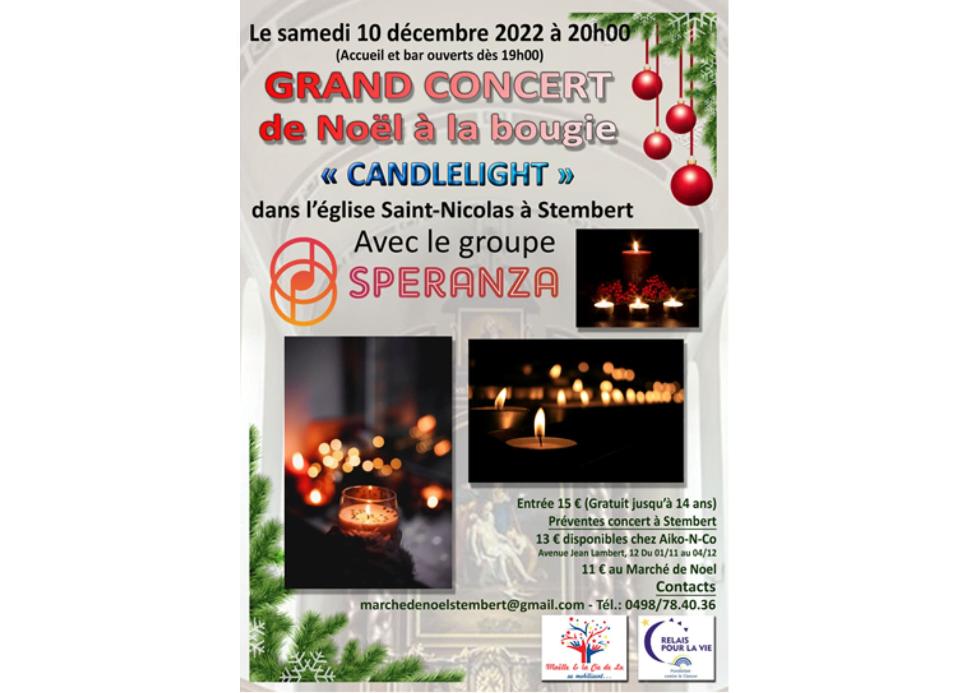 Concert de Noël à Stembert
Once upon a time... an adventure, born 8 years ago. A crazy bet of a Christmas concert, every year, in the beautiful village of Stembert, by "Maëlle et la Cie de Lu".
Once upon a time... a musical group, based on the love of music and harmonization: Speranza, which gave the first concert. A group that has grown with time and is coming back. A group that innovates every year and offers you a concept NEVER BEFORE SEEN IN THE ARRONDISSEMENT OF VERVIERS!
The church of Saint-Nicolas de Stembert, an important heritage site, will be dressed up in its finest attire to host a unique concert this year:
"Candlelight concert" (concert with candles)
The most beautiful Christmas tunes and harmonious discoveries will punctuate the concert around a grand piano, a saxophonist/clarinet player/flute player, the magnificent church organs and a drumming band.
From 7 pm onwards in the Church of St. Nicholas.
How do you get a seat? Three ways:
At the Stembert Christmas market on 3 and 4 December: €11
At Aiko'n'Co (avenue Desonay): €13
On the spot, on the day of the event: 15 €.
All in aid of Relay for Life, by the association "Maëlle & le Cie de Lu". All together, towards Christmas, against disease!