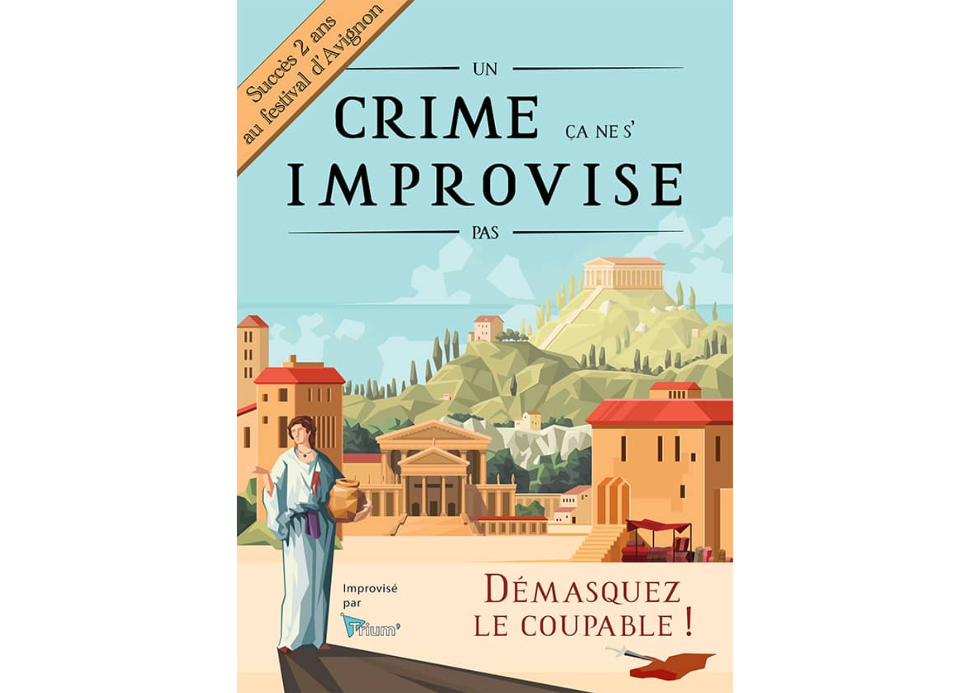 Show : Un crime, ça ne s'improvise pas - impro par Trium
Improvisation show evening - By the company TRIUM coming directly from Lausanne in Switzerland.
The concept has already been performed many times in Switzerland, as well as the last two years at the Avignon Festival in France.
But what is this concept of an improvised show?
The plot takes place in Rome more than 2000 years ago, in an Empire plagued by conspiracies and greed for power. During an eventful and drunken evening between Roman aristocrats, one of the guests is murdered. The culprit is hiding among the guests. Who will be able to unmask him? The public has a role to play in this case.
In order to unmask the murderer or murderess, the audience is given an "investigation card". It consists of a list of characters, photos of the actors, and fictitious characteristics that will help identify the culprit.
As everything is improvised, at the beginning of the show, neither the actors nor the audience know who is the victim and who is the culprit. It is fate that will decide.
The concept could be a mix between a game of Loup-garou de Tiercelieu (the actors don't know who the murderer is, except for the murderer himself) and Cluedo (the audience has a "survey sheet" with characteristics that make up the murderer's profile).
Combining humour, historical reality, board games and audience participation, this concept has already proved its worth on several occasions, in the Lake Geneva region and at the Avignon Festival.
Information
Show starts at 20:00
Price of a seat in pre-sale: 12 € - Price on the spot the same day: 15 €.
Reservations preferably on line with secure payment or at the sales points:
La maison du tourisme Pays de Vesdre - Rue Xhavée 61, 4800 Verviers - 087 78 79 99
Papyland bookshop - Av. Hanlet 41, 4800 Verviers - 087 22 75 00
Bancontact payment now available on site on the same day
⚠️ The auditorium is not accessible to people with reduced mobility (PRM). The hall is located on the first floor without a lift.