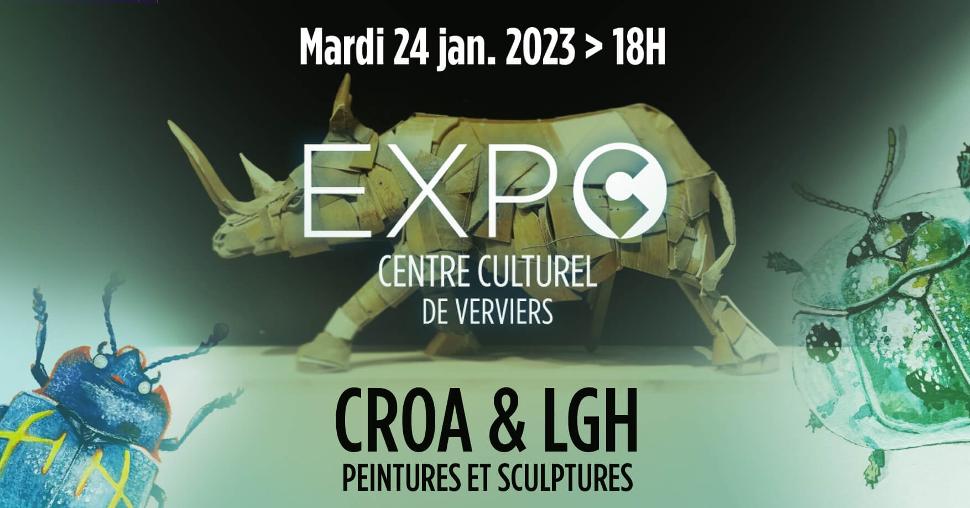 Exposition : LgH & cRoA
LgH (Christophe Henry) (sculptures)
Filled with life like a jungle. A clean ecosystem created from scratch - from old parts. I imagine the master of the place as a hard-working squirrel, collecting waste in his den, again and again. A precious collection of humanity's leftovers. An idea, an image, a movement, it turns in his head, it infuses, it cooks, it is material, physical, alive, then it is created in no time. Like life is given, like life is created, but from waste... It's wild. It is limpid. It is rock art!
cRoA (Coraline Gillet) (paintings & sculptures)
100 g of delicacy; 250 g of meticulousness; 1 kg of poetry; 1 pinch of weirdness; 1 zest of elegance; 2 nuts of curiosity; 3 tablespoons of humour.
Pour all the ingredients into a large bowl with 1/2 L of inspiration, mix for ages to obtain a delicious and colourful bric-a-brac.
Note: choose your natural and "organic" ingredients. Make this dish sound good with a vegetable side dish. Serve in pretty dishes, if possible lovingly collected, to make it more tasty! Enjoy your meal!
Opening: Tuesday 24 January 2023 at 6 pm.
Hours: Free admission. The exhibition is open from Monday to Friday from 10am to 12.30pm and from 1.30pm to 5.30pm, and during shows and activities at the Cultural Centre, or by appointment for groups.
Exact address of the event: Centre culturel de Verviers, Bld de Gérarchamps 7C, Verviers
Price: FREE - Open to all!
Telephone: 087/39.30.60
Email address: billetterie@ccverviers.be
Website: www.ccverviers.be - www.facebook.com/CCVerviers