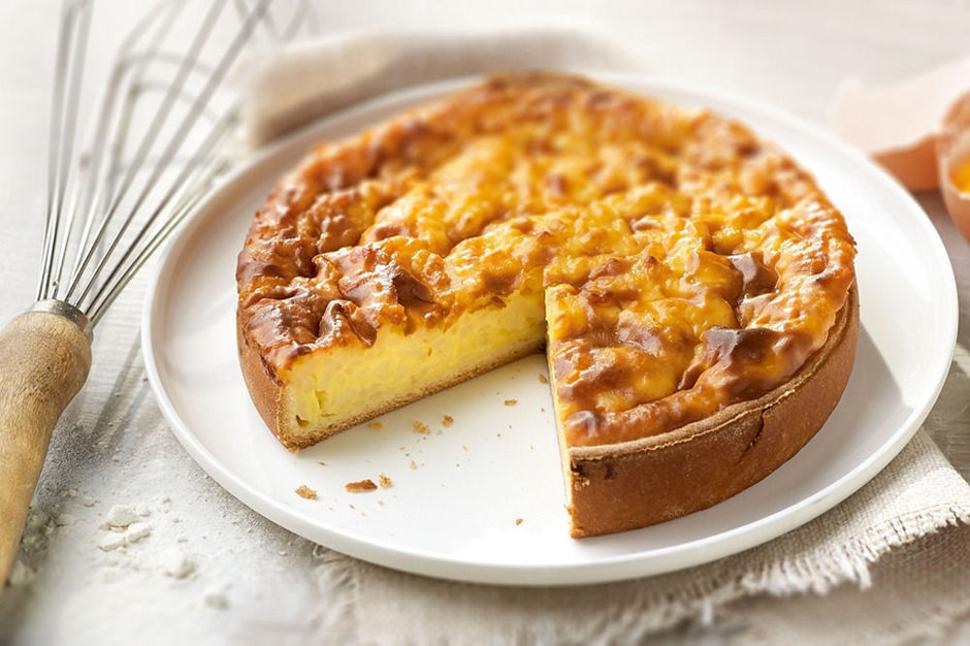 La tarte au riz
Description
Rice flan is a typical speciality of Verviers and is undoubtedly the gastronomic flagship of the Wooly City! This delight, made from rice, milk, sugar and eggs on slim pastry base, can be enjoyed at any time of the day. So do not hesitate and try a creamy and still warm portion, accompanied by a nice hot coffee…
Recipe
Ingredients (4 people)
For the rice:
1 litre of milk;
135 grams of round rice;
185 grams of fine sugar;
1 cinnamon stick (or cinnamon powder).
For the pastry:
100 grams of flour;
5 centilitres of milk (or water);
5 grams of yeast;
2.5 grams of fine sugar;
2 grams of salt;
30 grams of butter.
For the filling:
1 egg;
1 egg yolk.
Preparation
Here are the different steps of the recipe for the Vervî-riz rice pie.
1st step: Preparation of the rice
- Heat the milk in a bain-marie and bring to the boil.
- Pour the rice into the milk and stir regularly for an hour.
- Put the cinnamon stick in the pan and add the sugar.
- Stir regularly for 30 minutes.
- Once the rice is consistent, place in a container and set aside in the refrigerator for 24 hours.
Step 2: Making the pastry
- Place the flour, yeast and milk in a large bowl. Mix with your hands for about 20 minutes. Leave to rest for ten minutes.
- Then add the sugar and salt and mix again for about 20 minutes.
- Then add the butter and mix for a few minutes.
- Make a ball of dough and leave to rest for about an hour under a towel.
Step 3: Making the rice pie
- Roll out the dough with a rolling pin.
- Coat a pie dish with fat and place the dough in the pie dish.
- Put an egg in the rice and mix with your hand.
- Pour the rice over the pie and level off.
- Brush the surface of the pie with an egg yolk.
- Place the pie in a 240 degree oven for about 25-30 minutes.
Suggestions
Once the pie is out of the oven, wait at least a few hours before eating it.
Chords